SAP Business Partner – Transliteration of Master Data
SAP Business Partner is smart master data maintenance for every individual, group, or organization that is involved in a business, whether domestic or international.
The central SAP transaction to manage business partners is BP – Maintain Business Partner.
In our last blog post about Transliteration, we already highlighted its role in the context of globalization and internationalization.
SAP Business Partner, also known as SAP BP, is used to centrally enter and manage master data of SAP business partners located all over the world. This increases efficiency, simplifies relationships with business partners, and offers advantages in the acquisition of new customers.
But what if the data in SAP BP is available in different scripts such as Chinese or Japanese? You can solve this using transliteration within transaction SAP BP. QUANTO Solutions tells you exactly how this works, which challenges you may have to face – and which solutions are available.
What is SAP Business Partner all about?
You can use SAP BP for master data management. Unlike transactional data, which refer to day-to-day business processes like purchase orders or the sales of goods and services, master data remain unchanged over a period of time and you need it to generate transactional data, e.g. to create an invoice. Names and addresses in an invoice belong to master data, while prices and quantities are transactional data.
SAP Business Partner is an SAP Strategic Object Model that you use to create and maintain master data of business partners, e.g. customers and suppliers.
From a technical perspective, it is an SAP R/3 functionality and a cloud solution in SAP S/4HANA. As from HANA Release 1511, SAP BP has been used in the following SAP components:

Collections Management
Credit Management
Treasury und Risk Management
Loans Management
Customer Relation Management
Supply Chain Management
Supplier Relationship Management
But what is the real added value of SAP BP?
Benefits of SAP BP
The single point of entry for business partner master data is the transaction "Maintain Business Partner". BP is the only point where you can manage master data management in SAP S/4HANA.
In this way, SAP BP ensures data integrity and avoids inconsistencies and redundancies. This increases efficiency and improves key account management and business development.
While the previous SAP ERP system managed customers and suppliers separately, SAP Business Partner offers the possibility to create different roles for individual business partners as "objects".
You can do this in SAP BP by configuring your business partners in several stages according to category, role and relationship. In addition, you can synchronize data of the individual customer/vendor objects. The maintenance and harmonization of master data is thus simple and efficient.
Each SAP business partner belongs to a category and can take on one or more roles (customer, supplier, sold-to party, bill-to party …). The type can be a natural person, an organization (legal entity) or a group (association).Each SAP BP partner is assigned a unique number.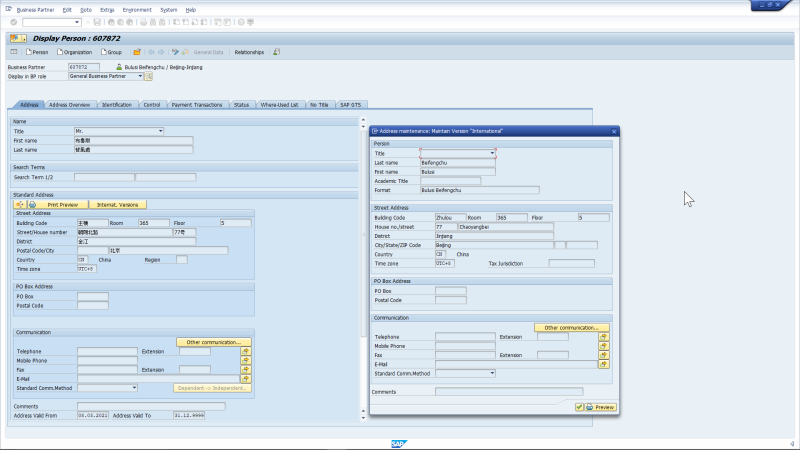 Business Partner Data Categories
You can create and classify each SAP Business Partner according to the following three categories:
Organizations
Persons
Groups

Business Partner Data
Master data (business partner data) contains the following descriptive information of a business partner:
Company name
Address
Contact data (proper names)
Further data such as tax number, identification number, bank data, status/role/type of business relationship

And what are the roles involved?
Roles in SAP Business Partner
Customer
Employee
Prospect
Partner
Subcontractor
Vendor

And how is this data integrated into SAP BP?
SAP BP Integration
In integrated system landscapes, master data is usually maintained in ERP (Enterprise Resource Planning) systems. From there, they are transferred to other interfaces via the SAP Core Interface.
In this context, SAP Customer Vendor Integration (CVI) provides the synchronization between the objects (business partners objects and customer/vendor objects).
Master Data Transliteration Challenges & Solutions
SAP Business Partner is a quite powerful functionality which offers many individual design options. Transliteration is used here for the internationalization of non-Latin master data.
Use Cases
(1) Just imagine an international company like Volkswagen having its headquarters in Europe and subsidiaries in China and Russia. The SAP BP master data is maintained centrally in the system by different employees worldwide in different scripts.
Without transliteration, the master data would not be consistent and could not be used correctly by employees worldwide. The international, romanized version ensures data integrity.
(2) International and transliterated data is also essential in SAP ERP, for example when checking the credit standing of customers, or whether a potential new partner or supplier is included in a sanctions list, and to eliminate any duplicates.
Indeed, technical transliteration poses some challenges. See what issues you may have to face when dealing with different scripts, including possible solutions.
Examples of company names
For company names, you usually need a combination of translation and transliteration. The company name itself is transliterated, whereas the part of the name describing the legal entity type such as Group (Chinese: 集团) or Company (Chinese: 公司) must be translated.
Let's have a look at some real use cases.
Chinese Master Data
京东集团 → The pure translation would be "east of the capital" (东京). With transliteration, it becomes Jing Dong (JD), the second biggest ecommerce platform in China.
阿里巴巴集团 → These characters can have many different meanings. For example, one translation might be "snakes" (巴巴) and "Afghan village" (阿里). Thanks to transliteration, it becomes Alibaba, the online retail giant in China.
百度公司 → Literally translated, this stands for "hundreds" (百) and "times" (度). Using transliteration, it becomes Baidu, China's largest search engine.
小米集團 → If these characters were translated, the meaning would be "smaller/small" (小) and "rice/rice grain" (米). As mentioned above, 集團 means "group." The transliteration converts this to Xiaomi, the third largest smartphone manufacturer after Apple or Samsung.
Japanese Master Data
本田技研工業株式会社 → The first two characters are the proper name of this company. 本田 reads in the translation "original/fundamental field". However, by means of transliteration, it becomes Honda. Instead, 技研工業株式会社 can be translated into Motor Company, Ltd. Honda Motor Company, Ltd. Is Japan' second most popular car brand after Volkswagen.
三菱商事株式会社 → If translated, the proper name at the beginning would be "three" (三) and "water chestnuts" (菱). Transliterated, however, it becomes Mitsubishi. 商事株式会社 stands for corporation. Mitsubishi Corporation is Japan's largest trading company.
株式会社日立製作所 → Here "sun" (日) and "upright/standing upright (立) would be the result of translation only. By means of transliteration, however, it becomes Hitachi. 株式会社 and 製作所 should be translated and mean Company / Manufacturing. Hitachi Manufacturing Company – i.e. Hitachi, Ltd. – is one of the largest suppliers of automotive electrical equipment and is on its way to becoming the world leader in power transmission. But how can you determine which parts of a name or address need translation and which parts need transliteration? An expert like QUANTO Solutions can help you!
Our takeaways: SAP Business Partner
SAP Business Partner provides intelligent master data maintenance for your business across the world. With SAP BP you enjoy many advantages: central data management from partners, data integrity and increased efficiency. In addition, different roles (customer, supplier) can be assigned to a partner in SAP BP.
Transliteration plays a special role for international business partners, especially from China and Japan. The correct address form avoids embarrassing mistakes and the correct company name or address is relevant for legal documents or trouble-free delivery of goods.
Find out how we can help you with the introduction of SAP S / 4HANA, data migration and individual software solutions as well as Big Data.
Our QUANTO solution for SAP Business Partners and Transliteration will bring more efficiency in the global management of your master data. Get one initial consultation free-of-charge!