Use QUANTO Analytics to monitor SAP Fiori apps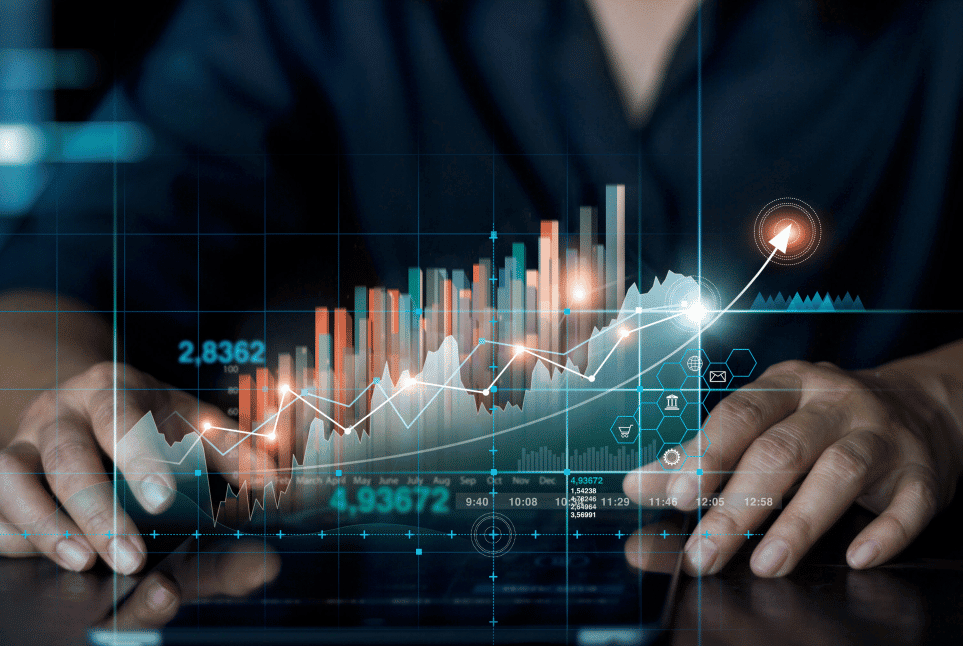 In the private context, our tolerance for "bad" software is quite low. Bad here means, for example, long loading times in online shops, complicated user guidance in apps or faulty functions in service portals – in short, anything that has a negative impact on the user experience. When we as consumers are confronted with this, we often abandon the transaction or at least do not use the service a second time.
Impact of bad UX
88% of users say they are unlikely to return to a website after a poor user experience.
90% of users say they are unlikely to use a poorly performing app again.
53% of users will leave a mobile site if it takes more than 3 seconds to load.
(Source: Toptal)
These are not new findings, and it could be argued that they are only relevant to the consumer sector. In a business context, everything is different. The only difference is that we, as users, do not tick in a fundamentally different way in a business context than in our private lives. We bring our personal experiences into the professional environment.
User experience in the daily work routine
When users encounter usability hurdles or generally poor UX in their daily work with applications, in many cases they will not be able to simply abandon the initiated work process. But they will certainly try to find alternative approaches and workarounds to make the process more pleasant or efficient for themselves.
However, this also increases the risk of errors, security breaches and compliance violations. If the workaround fails, companies can at least be sure of frustrated employees. And lower user satisfaction always goes hand in hand with lower productivity.
Keeping an eye on UX
When developing new applications, product owners should define a good user experience as a goal from the outset and keep it in mind throughout the development process. Conversely, it is also important to review existing applications for usability and adoption in order to identify and remove barriers and improve the UX. Specifically, product owners need to know how satisfied users are with the solution and what is really important to them in accomplishing their tasks and using the application. In addition to surveys, objective measures of user behaviour are extremely important for evaluation.
QUANTO-ANALYTICS – UX measurement for SAP Fiori applications
We have developed QUANTO-ANALYTICS to keep an eye on user behaviour and therefore user acceptance of SAP Fiori applications. QUANTO-ANALYTICS provides various analysis functions to analyse the usage of applications in the SAP Fiori Launchpad. For this purpose, usage data has been…
collected,
analysed,
and visualised,
to identify anomalies and relevant usage patterns. The insights gained can then be used to make adjustments that optimise the usability of the applications.
The tool presents the data in a clear dashboard for quick insight, easy understanding and analysis.
Purpose of QUANTO-ANALYTICS
What data is collected and what questions can be answered?
QUANTO-ANALYTICS provides numerous metrics on user behaviour. For example, which topics and languages the users are using or which services they are using. Also how often they do so and how long they use the services.
Of course, the interpretation of this data depends on the context of use. In principle, however, the data can be used to make statements about acceptance, business value or possible usability barriers. If users switch from their native language to the English frontend, this indicates serious translation errors. The English frontend is then the fallback solution. If a particular service is used very frequently, this may indicate that the service is highly relevant. It is also possible, however, that the figures collected are an indication of a usability problem, for example if it is a minor function that is normally only used once a month.
But the tool does more than just help you understand user behaviour. By monitoring errors or response times of services, important information and insights can be gained to improve the stability and performance of an application.
Questions and tasks answered by QUANTO-ANALYTICS
Getting to know users
Understanding user behaviour
Analyse SAP Fiori application usage
Easily identify opportunities for improvement
Identify and document errors more easily
Evaluate accessibility (font sizes / contrasts / colours)
Prioritise development projects (including number of users)
Current features of QUANTO-ANALYTICS
The current features are described in detail below. As QUANTO-ANALYTICS is modular, new features can be easily developed and activated.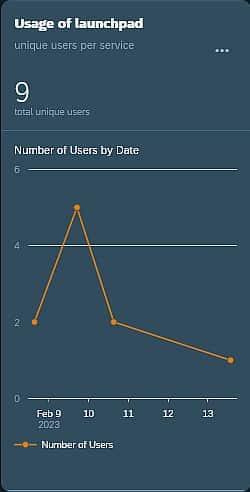 Usage of services: The Service Usage feature shows which SAP Fiori Apps data services are being used. You can also see how often and at what time these services are used. The display can be filtered and sorted by time period and by service.
Occurred errors: The Occurred Errors feature documents and displays all errors that have occurred on the SAP front-end server. Errors can be filtered and sorted.
Duration of service calls: The Service Call Duration feature analyses the response times for service calls. This allows you to quickly and easily identify the services that are causing poor performance.
Service call traffic: The Service Call Traffic feature analyses service call traffic. It shows how much data is being transferred during calls. For example, very large requests can be identified. The requests can be sorted and filtered.
Browsers used: The Browsers Used feature lists the browsers used by users. This helps you to better understand your users and their preferences, and if necessary, draw conclusions about browser-based barriers or special features.
Use of Fiori Themes: The Use of Fiori Themes feature analyses the Fiori themes used. It shows which themes users are using and how often. This also helps to better understand users and track app usage.
Languages used: This feature lists the languages used by users. This can be used to identify areas for improvement and to plan future releases.
Time spent in applications: This feature records how long the user has been using each SAP Fiori application. The display can be filtered and sorted by SAP Fiori apps and time.
Technical Details
QUANTO-ANALYTICS can be easily installed and used on different architectures. QUANTO-ANALYTICS runs completely on on-premises and hybrid architectures. Only on SAP BTP the tool runs with a limited range of functions.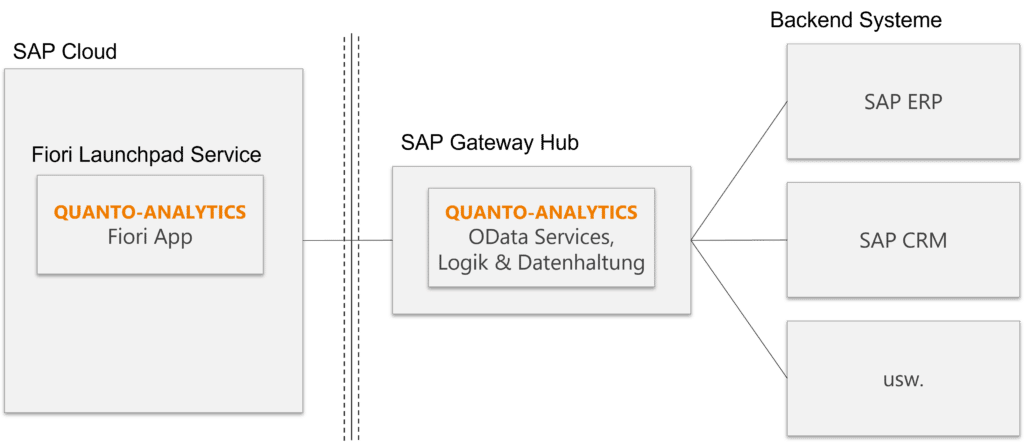 QUANTO Analytics is installed on the SAP Gateway. The SAP Gateway can be a standalone system or part of an SAP backend system.
The front end of QUANTO Analytics is installed on the FES of the SAP Gateway (on-prem).
One or more SAP backend systems can be accessed via the SAP Gateway.
Alternatively, the QUANTO Analytics front-end can be deployed on SAP BTP (Cloud Foundry).
The tool uses SAP standards and does not require any modifications.
A large number of accesses are monitored, but only a minimal amount of data is stored. No personal data is processed.
Price & Integration
If you have any questions regarding the installation on your own system, we will be happy to help you. To integrate our solution into your environment, we provide transports and configuration settings that can be transported to an on-prem system or to the SAP Business Technology Platform. Or, if you prefer, we can do the installation and setup for you.
QUANTO-ANALYTICS is available in different subscription options. This means that the investment and scope of services can be flexibly controlled depending on the required functions, runtimes and number of users. Simple, transparent and with full control for our customers.
To find out more about our subscription plans and how to enquire, click here.
Summary
With QUANTO-ANALYTICS we offer IT / project managers, developers or product owners an excellent solution to keep an eye on the performance, stability and user behaviour of their SAP Fiori applications. We are constantly developing QUANTO-ANALYTICS in line with customer and industry requirements, but even with version 1.0 users get a fully productive monitoring solution with a wide range of features. If you are missing any features please do not hesitate to contact us, we look forward to hearing your requirements.